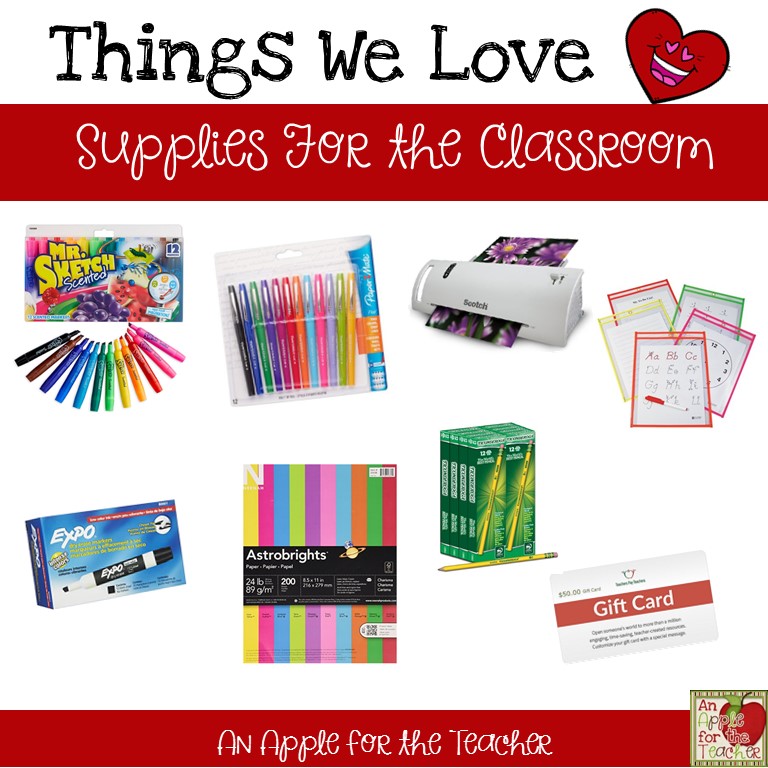 Every teacher's dream is to have unlimited school supplies. I'd have the perfect classroom (who wouldn't). Since it doesn't seem possible, you'll just have to settle for this awesome giveaway! You can enter to win all these wonderful supplies that we, as teachers, just love (and can't seems to live without!)
I just love Flair Pens!
If there's one thing I love, its my flair pens! I remember using them when I was in elementary school. My teacher let use them to grade each others papers. Now as a teacher, I let my students grade each others' papers too and I know they love it as much as I do.
Now's your chance to win!
Enter below for your chance to win 8 things we teachers love to have in our classroom!
a Rafflecopter giveaway

Disclaimer
GIVEAWAY DETAILS:  
 
Prize: Things We LOVE prize pack including: Mr. Sketch Markers, Flair Markers, Personal Laminator, Dry Erase Pockets, Dry Erase Markers, Astrobrights Paper, Ticonderoga Pencils, and a $50 Teachers pay Teachers gift card.
 
Giveaway Organized by: Kelly Malloy (An Apple for the Teacher), Third Grade Giggles, Teaching Superkids, Sliding into 1st, Katie Roltgen, Just Ask Judy, Traci Bender – The Bender Bunch, Pam's Place, Teach with Hope, Carla Hoff, Tried and True Teaching Tools, Leah Popinski, The Chocolate Teacher, Teacher Gameroom, It's a Teacher Thing, The Corriganite Nation, La-Nette Mark, Debora Marines TeachMagically, Teacher Mama School, The Craft of Teaching, Stephanie Rye-Forever in Fifth Grade, and Jackie Crews.
 
 Co-hosts:   An Apple for the Teacher, 
  
Rules: Use the Rafflecopter to enter. Giveaway ends 2/21/17 and is open worldwide.
 
Are you a Teacher Blogger or Teachers pay Teachers seller who wants to participate in giveaways like these to grow your store and social media?  Click here to find out how you can join our totally awesome group of bloggers!